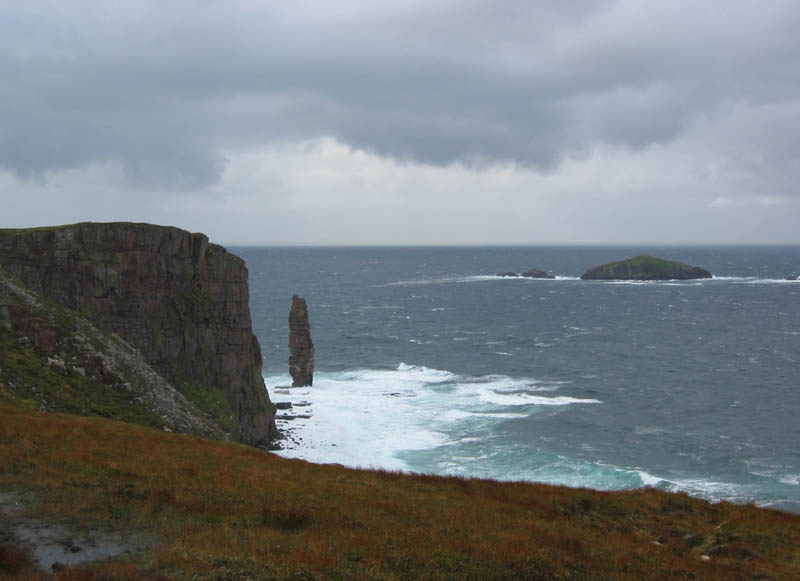 Am Buchaille (The Herdsman), one of several sea stacks at the remote Sandwood Bay, near Cape Wrath
Espresso News 2004
November
Fell in love all over again with Ursula Le Guin's Earthsea trilogy; developing a fannish website, The Isolate Tower -- hopefully a useful resource for fellow fans as well as a good model for learning a bit more about web design.
September
Stayed in Torridon & Lochinver, Assynt and vowed to visit earlier in the year next time, as appalling weather reduced us to driving right across Scotland to Inverness cinema not once but twice. Nevertheless, we successfully climbed the Horns of Alligin in Torridon, and Cul Beag & Ben Hope -- my first Munro -- in Assynt. We also fitted in coastal walks at Sandwood Bay & Clachtoll Bay. More photographs can be found here & on my new Scottish mountains page.
June--August
Lots of hill walking over the summer in the Lakes, Snowdonia & World's End, and my first trip to the Berwyns. Visits to the summits of Carnedd Dafydd, Elidir Fawr & finally Yr Elen completed my Welsh Three Thousanders tally on 1 August. This is me at the top of Yr Elen. We also climbed a couple of afternoons in August at Little Tryfan (Snowdonia) & Rob's Rocks (Peak District).
May
Revisited Castleton in the Peak District, which figures in my ongoing historical novel, and had supper in the garden of the old coaching inn. A few photographs are collected here. Later in the month, we spent a couple of days walking in the Moelwyns, Snowdonia. Cnicht is known as the Welsh Mattherhorn, and its rocky summit ridge had some stunning views, and Moel Hebog's cliffs gave interesting views of the Snowdon massif & Moel Siabod. More of my mountain photographs are now linked from my new Snowdonia and Lakes webpages. Back at home, a group of hares were spied in the field behind the house several mornings running.
April
Meanwhile, the garden has undergone some changes. You can't really see in the photo, but we've dug out the old invasive Kerria, rearranged the old rose over the shed to cover some arches, and planted a white-flowering Prunus, a new rose & a honeysuckle; the young flowering tree in the foreground is a Malus which we planted last year by the apple tree. The birches and the other two new Malus from last year are also doing well. Round the front, the conifer and heather bed is finally getting established, and we've also planted a pink-flowering, bronze-leaved Prunus in front of the holly tree.
March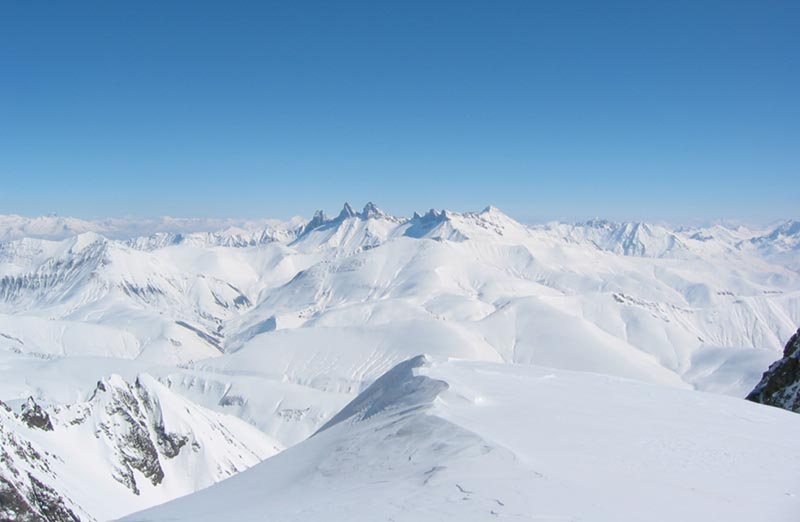 Glacier de Sarenne on Pic Blanc, Alpe d'Huez, France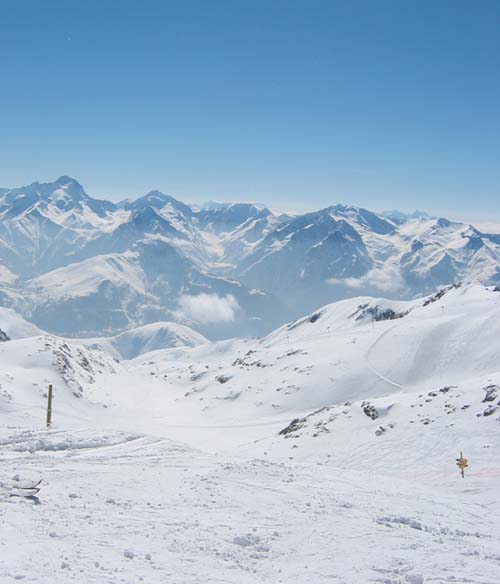 Alpe d'Huez is probably a good choice for beginners/intermediates or families on a budget, but you have to go a long way away from the huge bowl in which the village is located to find any remotely challenging skiing. Glacier de Sarenne on Pic Blanc was uncrowded, despite having some of the best snow in the resort.
January--February
My New Year's Resolution to see more films has resulted in Espresso Reviews at my new website, tavia.co.uk, a birthday present from Adrian.
Opened 2004 walking at the Roaches: a crisp start to the year with some snow on the ground. After the cold, the Roaches Tea Room's oatcakes were extremely welcome!
---
Archived News
You can e-mail me at: the_espresso_addict@fireflyuk.net
Last updated 23 June 2005